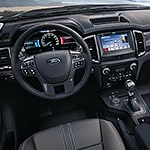 When you are in the market for a powerful midsize pickup truck, take a look at what the new Ford Ranger can offer to you. It is packed with innovative design features that make it ideal for both work driving and as a family vehicle.
For example, it sits on sturdy 17-inch wheels that are perfect for driving on both city roads and highways. They come with a thick and high-performance tread that can grip all road surfaces. You can take your new Ranger from Ford out in challenging conditions like snow and ice with ease.
The all-new Ford Ranger likewise is equipped with a rugged exterior body that can withstand a wide variety of wear and tear. You can drive it on rough and hectic construction sites or out in farmlands without worrying that your truck's body will suffer dents and dings. You avoid having to make expensive repairs to it.