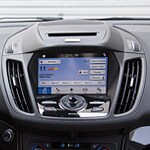 If you are a person who uses their automobile consistently, it almost feels like a second home. A popular crossover SUV is the Ford Escape. It has plenty of features that enhance the driving experience, including technology that not only entertains but helps promote safety. Us folks at Courtesy Ford know how important each aspect of your vehicle is to you and your passengers.
Parking is one of those things that every driver does frequently but may get overlooked in terms of the safety department. Ford's available Park Assist 2.0 makes parking easy. It could be that tight parallel spot or a perpendicular angle that gives you fits. The system will do the difficult parts for you, making sure you get that prime spot.
The available SYNC3 infotainment system comes equipped with a chic 8-inch touchscreen that will be your guide to navigation, wireless phone calls, Apple CarPlay, and much more. There's much to like about the Escape. Come see us at our showroom in Breaux Bridge, LA for a test drive.